I'm Perfect. You? Not so much....!
A while ago one of the world's most beautiful women begged me to interview her. I hesitated, because I didn't know if there existed a potent enough cocktail on the planet to render me insensate enough to endure being in the same room as her for longer than 5 seconds. So, not wishing to make little Flynn an orphan, I politely declined. Thus spurned, the attention seeking little madam ran off to Cosmopolitan magazine instead and hustled her ass and her skincare range for all she was worth.
Here's some of the wisdom and profundity from that interview that she had to share with us all - closely followed by my interpretation of it. Let me be the furry bridge between what she said and what she was really thinking.
"Models are some of the world's most insecure people I've ever met. They're constantly being told they're not good enough. You've really got to practice loving yourself ".
Yeah right! Why the hell would a gorgeous, perfect, pouting specimen like ME ever feel insecure? As if! And when it comes to "loving yourself" remember, I invented the concept. And it's something I practice 24/7. I'm so dedicated to myself that I refuse to even give myself a day off from loving myself. It's called being a professional.
"I'm a lot stronger than people think."
These dimples are made of steel, and I will see you burn in hell if you ever piss me off. Ask Orlando! Of course it's tough travelling so much without my little boy, but you know what would be tougher? Taking him with me! I just don't have the time and I really need to concentrate on my reflection for all those selfies I take. I don't get it, Kim Kardashian left her baby to attend Paris Fashion Week and so did I, yet she got all the headlines! Like she's the only celebrity who has a baby to leave? People seem to forget that I leave little Flynn without so much as a backward glance all the time. Life can be so unfair, even when you're as beautiful as me.
"If someone says to me, 'Well, that's not possible. It can't happen,' I say, 'Yes it is. I'm going to sit here and show you that it can.' I can take no for an answer and accept it – but if there's a solution and I can make it work, why wouldn't I?"
I can indeed take 'no' for an answer and accept it - but only if the question is "Will Miranda Kerr ever stop being the world's most beautiful and bashfully modest woman?" I will also happily bludgeon you to a pulp with a bottle of my Kora Organics Calming Lavender Mist if you show any opposition to my demands.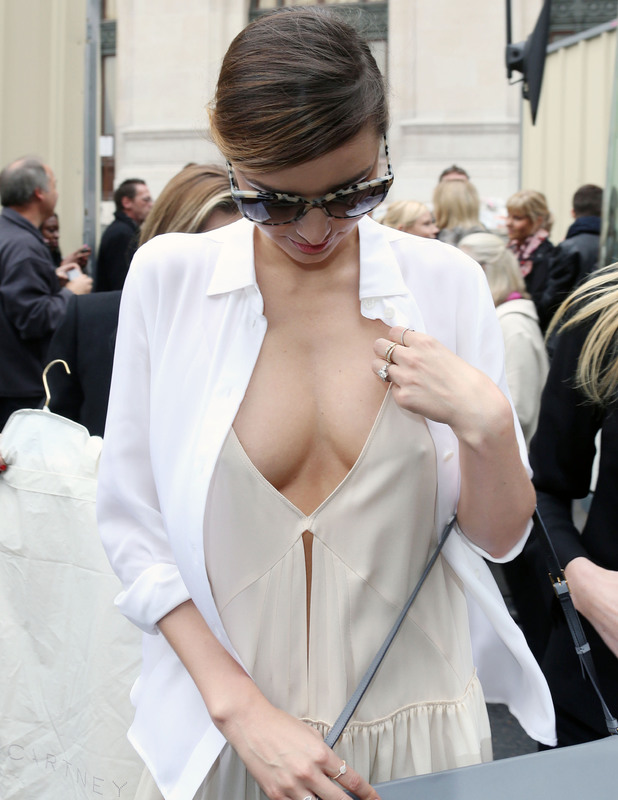 Look! No baby!
"Don't feel like you have to do and be everything. Let the man do some things for you, because if he cares for you, he will want to. When I get home, I'm not the boss like I am at work – I slip into a more feminine role. I take everything off and put on my Stella McCartney silk robe. I'll put on a red lip or red nails, and it lifts my mood. Sexy underwear also gives you a spark. I collect underwear from my travels. Lace, lingerie, bodysuits…they're like souvenirs."
Yeah, when I get home I like to start busting Orlando's balls straight away.Why wait? This ensures that he's out of the house within 10 minutes of my arrival. He says he likes to leave me on my own a lot because he cares for me so much. And anyway, it's the least he can do now that he's an embarrassing 'has-been' in the movie business. It's essential that I reconnect with my inner-goddess and practice taking selfies in various stages of undress. You can never have too many mirrors, I find. The amazing thing is that I look bloody wonderful from all angles and it never ceases to amaze me. I slink around in my silks and satins and do some yoga until I feel like ME again. I do worry that Orlando is sometimes more feminine than me - his feet are smaller, he has prettier hands and that Stella McCartney robe looks better on him. Sometimes I hate him for this. Sometimes, I just hate him!
Catching up on housework!
" Flynn says Mommy works and Daddy plays, because Daddy is in a play…so that makes sense. When I saw Orlando on Broadway in
Romeo and Juliet
, I was blown away. For someone to be able to learn all that and hold the energy to do it every day, six days a week – I have so much respect for him. We don't run lines though. We keep that very separate. That would be like me asking him to teach me how to catwalk"
I've spent hours coaching Flynn to say 'Mommy works and Daddy plays' only for the bone-idle layabout to actually get a part in a play! I was blown away alright, especially when I realised that he was going to play the part of a bloody teenager! How far back do the audience need to be sitting for that to work? I suppose it's a step up from delivering pizzas, but only just. I thought he was going to be a HUGE Hollywood Star when I married him....what a let-down. I weep for the greater celebrity I could have been if only he'd been more successful. I have so much respect for him I can't bear to be in the same country as the loser for longer than 5 minutes. I should be grateful he finally found a bloody part-time job but who the hell is going to babysit Flynn while he's out six nights a week in some stupid play? There's no understudy for that!
MEOW!